12/2016 - Art Show At Boca Museum Of Art
My oil painting "Meltdown" was chosen to be included in the Boca Museum Of Art. Oil on canvas with Swarovski crystals. On my Web in Portfolios; New Works: Winter Wonderland.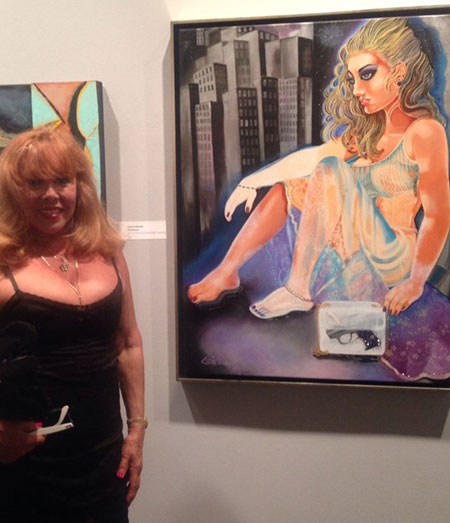 11/7/2015 - Group show with NAWA
November 2015 Group show with NAWA, The National Association Of Women Artists, at ArtServe, with canvases Uber Femme (when I was sixteen) oil on canvas with silverpoint 6ft X 4ft; and Dragonslayer Riding The Giant; 6ft X 4ft oil on canvas.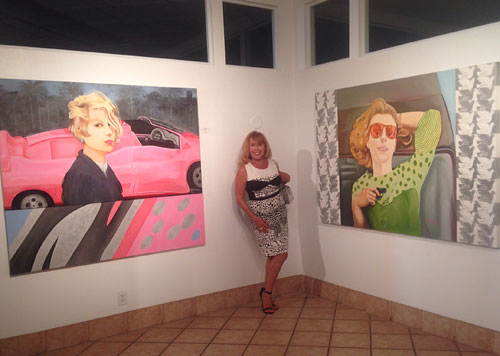 8/7/2015 - Art Party at The Beat Cup Cafe
I had an amazing Art Party at The Beat Cup Cafe this August 2015! Great tapas & champagne made the opening on Friday, August 7 festive & everyone had a good time. The show ran for two weeks.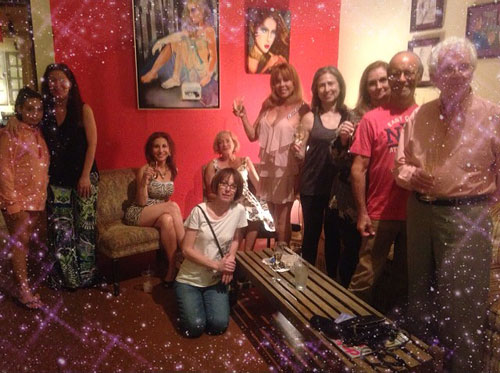 12/3/2004 - Art Basel Weekend December 3 - 7, 2014


I am pleased to be included in Art Basel Miami 2014. VIP opening is tonight December 3, 2014 and the show runs to the 7th. The address of Spectrum Miami is:
3011 NE 1st Avenue, Miami, Florida 33137 Booth #713.
The weather is perfect and the art is divine! So Come on down! I hope to see you there at Art Spectrum & if you wish tickets to the VIP opening on Wednesday evening, you may request them at Will Call.
Painting: " Dragonslayer Riding The Giant " Oil on canvas 48" X 72"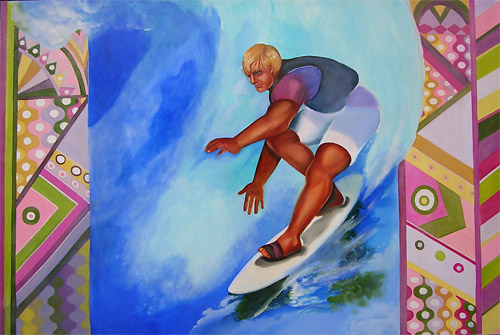 12/7/2013 - Art Basel Weekend
An amazing show for Art Basel Weekend December 2013. Thank you all that attended thanks for showing your support it is much appreciated!
Oil Painting: " Meltdown" oil on canvas with Swarovski crystals.






3/20/2014 - Tahitian Rose
I am excited to report that I will attend the Writers Workshop with Hay House, in beautiful San Francisco! For the past year I have been fantasizing and creating art for a Magical Cookbook. This book will include not only delicious recipes that are healthy and good for you, plus wonderfully simple formulas for beauty and longevity, but also illustrations created by me especially for this Magical Cookbook. So I am combining three of my favorite things: Inspirational Art, Nourishing Food, and amazing youth giving tinctures. More to be revealed in the very near future!


~ Tahitian Rose ~ created for Cherie Bender's Magical Cookbook, has been inspired by my roses in the garden. One beautiful rose bush named Tahitian Rose was so gorgeously multi-colored and surprising, with every bloom a different color, that she gave birth to my latest creation. My pastel "Tahitian Rose" portrays the magical youth giving, replenishing and cleansing properties of water and the beautiful inspirational colors of this rose. I hope you enjoy viewing "Tahitian Rose" as much as I did creating her!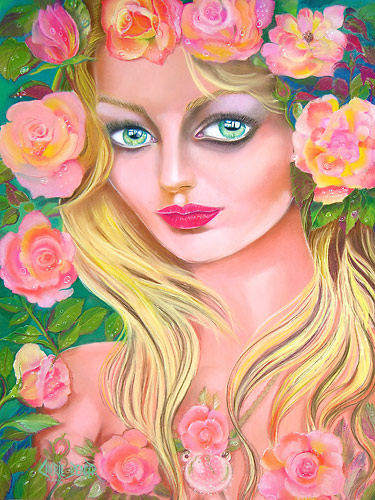 REBEL Art Show ICB Art Gallery
I will be showing a collection of oil paintings from the ~REBEL ~ series, at the ICB Gallery, Pineapple Grove, Delray Beach, Florida, for November 2013.
"Rebel" Opening Reception November 15, 6-9 pm
ICB Art Gallery. Telephone Number:

561-450-7881
181 NE 2nd Ave, Delray Beach, Fl. 33444
I look forward to see you!
I will be showing: "Marilyn In Her Pucci" ~ diptych, oil on canvas, by Cherie Bender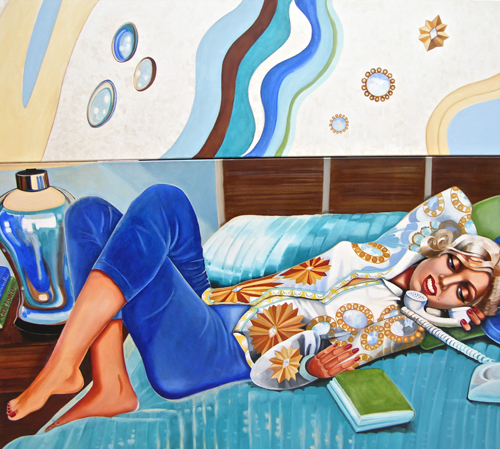 ---


11/1/2013 - NAWA Gallery Show
I have an upcoming NAWA group show in West Palm Beach, Florida. The Northwestern University Gallery.
One of my paintings, an abstract diptych titled "Mistral" oil on wood, will be shown.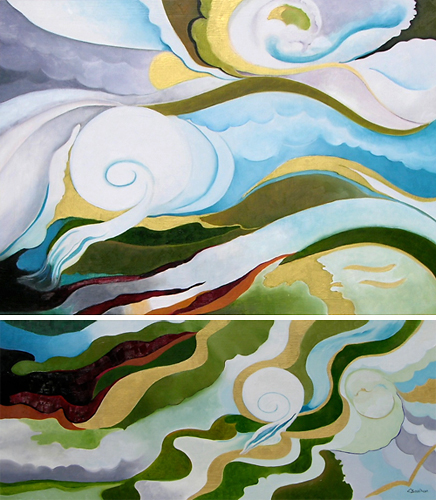 ---


10/12/2013 - ~ The Green Madonna ~ resides in Museum, Athens, Greece
Exciting and ancient! Greece beckons! Once again I prepare to travel to beautiful Athens for the grand opening of the beautiful museum which now owns two of my paintings: The Green Madonna and Crown Of Thorns. Invited to participate in the opening 35 x 35 show, I was inspired to create "The Green Madonna" oil on wood, 35x34 cm. expressly for them. The painting was inspired by my love for Greece, and by my visits to all of the islands and the antiquities in Athens. "The Green Madonna" represents the pain and suffering, with the love and compassion of the beautiful Madonna.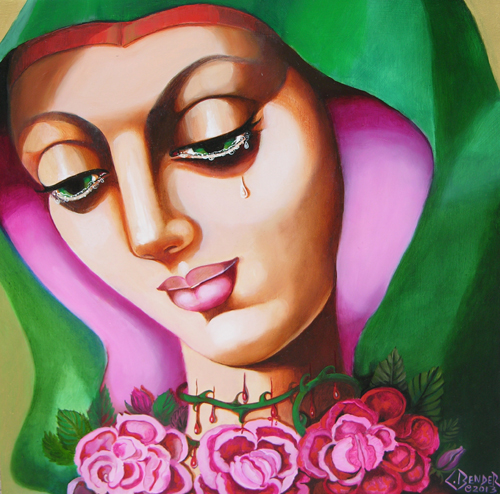 9/12/2013 - ~ The Green Madonna ~ In Art In America Magazine, August 2013
Breathtaking beautiful in her sadness

~ The Green Madonna ~ with information of my studio and web and the 35x35 show scheduled for late Fall, Museum, Athens, Greece, 2013; takes her place opposite the National Association Of Women Artists listing of participating members web addresses in Art In America Magazine, currently in the August 2013 issue.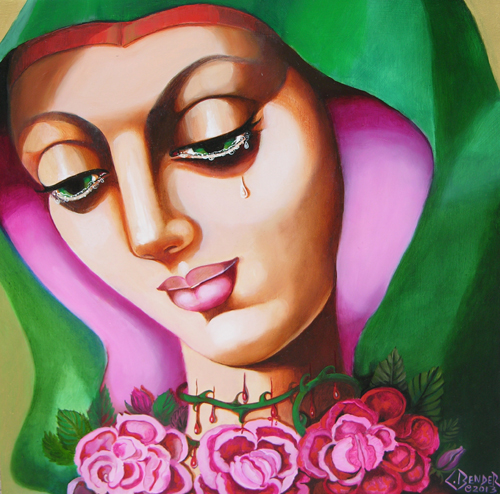 9/12/2013 - The National Association of Women Artists 124th Anniversary Show 2013
I am very pleased to be included in one of the most prestigious, historical artist associations, NAWA (The National Association Of Women Artists) and their group 124 Anniversary show: August 27 through September 28, 2013, with the oil painting ~ Gabriel ~ Opening night is September 19, 2013, at the Sylvia Wald & Po Kim Gallery, 417 Lafayette Street, in New York City.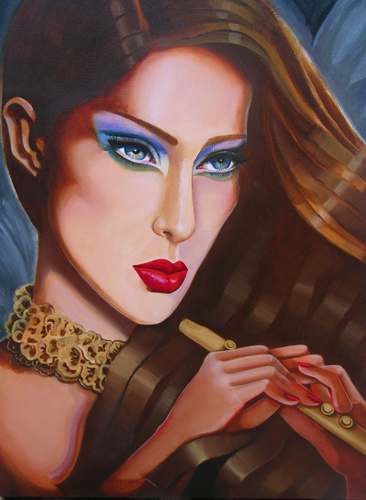 4/1/2012 - DESIRE AND THE PINK LAMBORGHINI ~ IN ART IN AMERICA MAGAZINE!
My oil on linen painting called "DESIRE AND THE PINK LAMBORGHINI" makes a scintillating statement in Art In America Magazine.
Combining the lusciousness of the background tropical environment, plus the bright, sexy color of a Pink Lamborghini, together with the Desire focused in the subject's green eyes, I am very proud of how the painting looks in Art In America Magazine.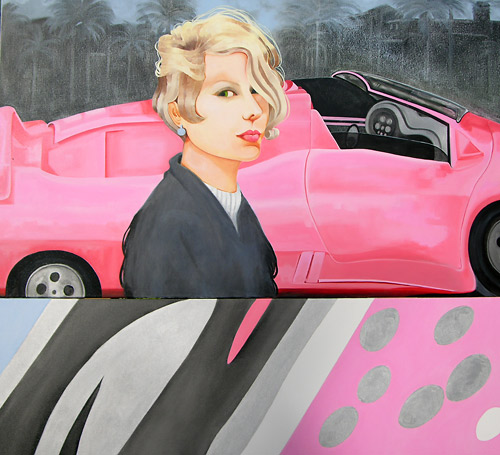 ---


5/21/2012 - STAMP Magazine
Cherie was recently interviewed by Jason Nickens at STAMP Magazine.





Excerpt from Interview: "I am a woman who paints. My viewpoint is different from a man, its hormones, its biological. Sometimes, I think like a man, just like a man can think like a woman. Creating art is not gender specific. Creating a strong visual message that has an exciting appeal that also is positive, that is challenging! Sexuality, color, symbolism, can be utilized to convey a message that uplifts and brings joy. That is what I find when I draw, paint and photograph. That is what makes me very happy!"


---


9/23/2010 - • SOLD! ~ Crown Of Thorns ~ To Athens
I delivered the painting ~ Crown Of Thorns ~ to the Museum in Athens! Very excited and traveled to many of the islands, my favorites being Mykonos, Santorini, Rhodes, and Pathmos, where I will return one day very soon! Many magical things happened there, and many magical things happened upon my return, safely, to America. I was totally enriched and blessed by my visit there; have been sharing excellent videos via FB & will be posting some here, so stay tuned!!



---


7/9/2010 - CROWN OF THORNS MAKES THE SHORT LIST FOR THE ALL FLORIDA SHOW
July 1, 2008, was the opening date for the annual ALL FLORIDA SHOW. My oil painting "CROWN OF THORNS" made the cut as one of a handful, out of over three thousand artists and art entries, and is on display in the Boca Raton Museum, Mizner Park, Florida throught this summer.
The opening was amazing. The museum looked beautiful and the lighting was absolutley perfect on my painting. An artist could not ask for anything more and I was grateful. When I visited the museum, the guards and docents went out of their way to tell me how many people had been touched by my painting and that it was one of the most viewed and loved. That put the icing on the cake! As usual the museum did a great job pleasing the crowd with plenty of cocktails and appetizers served in the outdoor sculpture garden, under the starry sky. Please come visit the beautiful Boca Raton Museum this summer of 2008.



---


5/1/2010 - ~CROWN OF THORNS~ IN ART IN AMERICA MAGAZINE!
~ CROWN OF THORNS ~ my painting, looks fantastic in Art In America Magazine! Color is my specialty,and the color is rich and emotive in Crown Of Thorns, which was captured perfectly by the art director and his staff in a full page spread! Many thanks to the art directors,and the editors who helped make this happen!


---


3/1/2009 - ~ UBER FEMME & MY FATHER...IN ART IN AMERICA MAGAZINE!
I am very excited and proud to announce I will be featured in a full page spread with the oil paintings "MY FATHER AT WORK IN HIS PAISLEY TIE" & "UBER FEMME (when I was sixteen..) " in the March 2009 issue of ART IN AMERICA magazine. Thank you to all at ART IN AMERICA who made this possible.



---


8/13/2008 - Night of 1000 Dinners
I donated my oil painting "Dreaming" to a great event called the "Night of 1000 Dinners" given by Paul McCartney and his then wife, Heather, for the prevention of landmines throughout the world.



---


7/20/2007 - Pastels for Peace
My Pastels For Peace section is my way of helping create more peace on planet earth by donating a portion of the proceeds of a print or original pastel in this section to a peace cause.




---


7/9/2007 - UBER FEMME... MAKES THE SHORT LIST FOR THE ALL FLORIDA SHOW
I am so pleased to announce that my painting 'UBER FEMME (when I was sixteen) has made the cut this year to be included for the first time in the ALL FLORIDA SHOW of the BOCA RATON MUSEUM. My beloved late Step-Mother, Mrs. Molly Bender was there to share this honor with me, of which I am very proud. UBER FEMME has a great historical significance to my life here in Florida. The Everglades are reflected in the sunglasses I am wearing and even though I hold a gun, the peace doves in silver-point on the side panels, show we can have peace, there is hope.



---


6/27/2007 - Cherie Amour Essential Oil Perfume & Hand Painted Box
I have created a beautiful essential oil blend that is uplifting, euphoric, and sexy, called CHERIE AMOUR. I offer this lovely perfume oil in an antique rose bottle, for $65.00 or nestled in a hand-painted box, for $350.00. Each hand painted box is unique and follows the seasons for Winter, Spring, Summer & Fall. The box pictured: Winter Pansies.



---


8/1/2006 - SEPTEMBER 11 AND THE HEALING FLOWERS MAKES THE CUT FOR THE BIENNALE
The painting which I have worked on from before September 11,2001, when I had the vision, until 2006, is beautifully displayed in the BOCA RATON MUSEUM OF ART throughout the summer.



---